Armored Blue Wind Rider
Talk

0
99,201pages on
this wiki

Armored Blue Wind Rider

Item Level

70

Requires Level 70
Requires Riding (300)
Use: Teaches you how to summon this mount. Can only be summoned in Outland or Northrend. This is a very fast mount.
Vendor 2000
For the NPC found in Dalaran, see Armored Blue Wind Rider (NPC).
"They are quite restless when they aren't soaring through the skies of Northrend." - Mei Francis

TCGWG 129

Armored Blue Windrider grounded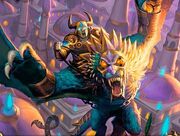 This mount can be purchased for 2000

from Mei Francis in the city of Dalaran (Horde-only).
External links
Edit