Baelog's Journal
Talk

0
98,452pages on
this wiki

In-Game Book

Do not add to, edit, or remove any of the story, unless the official source changes.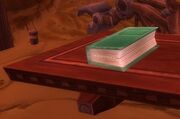 Baelog's Journal is a readable book located inside Uldaman, next to the dwarf Baelog. It describes the process to open The Chamber of Khaz'mul, initiating the boss Ironaya.
Contains
Baelog's Journal
I have found a method to enter the Chamber of Khaz'mul!

Take the Medallion of Gni'kiv from my chest.

Defeat the trogg Revelosh in the chamber before the map room and retrieve the Shaft of Tsol.

Join the medallion and the shaft into the Staff of Prehistoria.

Use the staff in the map room to unlock the door to the Chamber of Khaz'mul.

Do these things, and the chamber will be yours!
-Baelog
External links