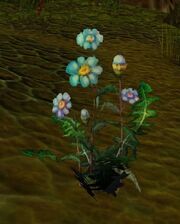 Blindweed is a Herb that can be gathered by Herbalists. Requires 235 Herbalism to gather.
Blindweed can be found near stagnant water, mostly in Swamp of Sorrows and Darkmist Ruins and Verdantis River region, and in limited amounts in Un'Goro Crater, Zangarmarsh, and Maraudon.
Pickable Zones Edit
Blindweed as an Ingredient Edit
Blindweed is used in the following recipes:
Inscription Edit
Patch changesEdit
Patch 1.8.0 (10-Oct-2005): Blindweed has been increased in size, making it easier to see. 

External linksEdit
Herbalism herbs
Apprentice
Journeyman
Expert
Artisan
Master
Grand Master
Illustrious Grand Master
Paramount? Grand Master