Buckey
Talk

1
100,577pages on
this wiki
| | |
| --- | --- |
| | It has been suggested that this article or section be split into two or more articles. |
Anton Buckey and Jermaine Buckey are two dwarf NPC's in north-western Dun Morogh who are stuck in a tree as a result of an attack on their camp below by a group of black bears and their cubs.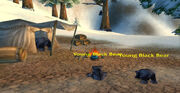 Anton Buckey says:
"And who forgot tae grab the ale on the way up? Not me! Hahahaha!"
"Nae, I'm enjoying me fine some Ironforge mead. Might be the last drink we have for a while yet."

Anton Buckey at one of the upper branches.

"If ye want my advice, don't go strugglin' tae much. Ye'll just encourage them."
"If ye climb up another notch, I'll share me brew with ye!"
Jermaine Buckey says: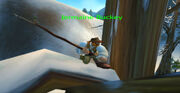 "I told ye not tae leave the boar ribs out! Why couldna yae had a proper stomach and eaten yer dinner like the rest o' us Buckeys?"
"Mebbe someone will come around and get us out of this mess!"
"Come any closer ya wee bear and I'll punch ya in the face!"

A black bear is trying to get to Jermaine Buckey.

"Stop drinking tha last o' our ale and help me off this blasted branch!"