Burlap Waystation
Talk

0
102,686pages on
this wiki
Not yet released!

This article or section includes information about announced content that has not been released yet. The expected release date is unknown.
Please remove this template when the content has gone live.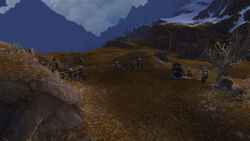 The Burlap Waystation is a small camp that the grummle yak caravan passes through on their way down the Burlap Trail in Kun-Lai Summit. It has been ravaged by the hozen from the surrounding villages.
The Sha of Anger will periodically appear in the field just to the northeast. A large amount of mobs will show up with him.
Inhabitants
Quest givers/enders
Mobs (when Sha of Anger is present; surrounding area)
Patch changes
External links