The Council of Tirisfal (Order of Tirisfal, Order, or Tirisfalen) was the secret council of human, gnome, and high elven mages charged with the selection and disposition of the Guardian of Tirisfal.
The Order was formed by the most powerful of the high elves in order to prevent and safeguard Azeroth from the demons, something that their Highborne ancestors couldn't do. They derived their name from their meeting place in the Tirisfal Glades.[1]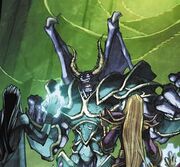 Over 3,000 years ago[2] an elven society called the Council of Silvermoon, that had long ago sworn to forestall any full return by the Legion, met with the most powerful wizards of the human nations and formed the Order of Tirisfal, whose quest was to hunt those demons who had already arrived, and prevent others from entering Azeroth.[3]
For a great period of time, the Order's oldest members were three high elves, among them Relfthra. They were in a position of authority even during the guardianship of Scavell, and up until the purge of the Tirisfalen.
The two most famous Guardians of Tirisfal by far were the last two — Aegwynn and her son Medivh. Medivh/Sargeras killed many named and unnamed members of the Order throughout Azeroth during the time of the First War, before he was slain. It is, however, known that Aegwynn revived an uncorrupted Medivh, so theoretically he still lives. While it may be possible for Medivh to pass the mantle of Guardian to another, it was he who destroyed the Order with the specific purpose of breaking the chain, the one thing he and Sargeras agreed upon. His final known speech echoes this sentiment, as he wished to teach the world that it no longer needed Guardians.
Known membersEdit
The New Council of TirisfalEdit
Main article: New Council of Tirisfal
In view of the growing threat of Cho'Gall and his masters, it was decided by Aegwynn, Jaina Proudmoore, and Meryl Felstorm to reform the Council of Tirisfal. The three also planned to recruit Maraad, Broll Bearmantle, Thrall and Khadgar for the new order. [4]
ReferencesEdit