Crab
Talk

1
102,544pages on
this wiki
For the critter, see Crab (critter).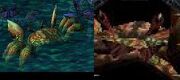 A crab is a (typically) small crustacean that is often found on beaches. Crabs have high armor, as the shell would imply. They live in all the world's oceans, in fresh water, and on land. Crabs typically walk sideways, However, some crabs walk forwards or backwards. Some crabs, are also capable of swimming.
Crabs can communicate by drumming or waving their pincers. Crabs tend to be aggressive towards one another and males often fight to gain access to females. On rocky seashores, where nearly all caves and crevices are occupied, crabs may also fight over hiding holes.
Crabs are omnivores, feeding primarily on algae, and taking any other food, including molluscs, worms, other crustaceans, fungi,bacteria and detritus, depending on their availability and the crab species. some species are more specialised in their diets. Some eat plankton, some eat primarily shellfish like clams and some even catch fish.
Crabs are known to work together to provide food and protection for their family, and during mating season to find a comfortable spot for the female to release her eggs. Crabs are typically neutral and ignore passers-by. They drop claws and meat that are used in cooking recipes (e.g., Crawler Meat for making Crab Cakes). Crabs are found in Durotar, The Barrens, Darkshore, Westfall, Blackfathom Deeps, Ashenvale, Desolace, Stranglethorn Vale, Azuremyst Isle and the Swamp of Sorrows. They are usually found along the coastline in some watery zones. Sometimes, they may appear as critters. One can even find tiny red lava crabs scuttling about in the Searing Gorge and Burning Steppes. Crabs are not skinnable. Crabs also appear in Wrath of the Lich King (after mostly being ignored in The Burning Crusade); one example is Kili'ua.
Hunter pet
Edit
Specialization (upon taming)

Tenacity
The Crab eats




The Crab comes with


All pets come with

Though hunters can respec their pet crabs into Cunning or Ferocity, they are inherently Tenacity. In addition to the abilities that come standard with all pets ([Growl] and [Avoidance]) and those given to their natural or retrained specialization, all crabs are given the following:
Subspecies
Edit
The subspecies below can be tamed by hunters. Goblin hunters start with a red crab.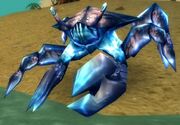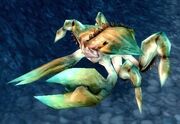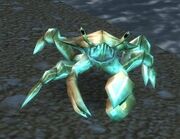 Blue
Bronze
Gem
Red
White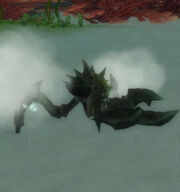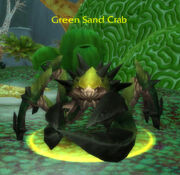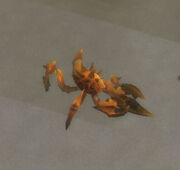 Note: Mobs are listed by primary color, with secondary colors (if any) listed in parentheses.
Black
Blue
Green
Orange
Red
Mobs with levels can be tamed by hunters.
Vanity/Battle pet
Edit
Patch changes
Edit
Patch 3.1.0 (14-Apr-2009): Bonuses equalized. Damage had no bonus and now has +5% bonus. Health had a 10% bonus and now has a +5% bonus.

/ Patch 3.0.2 (14-Oct-2008): Major changes. Gained a new ability, Pin. Armor had a +13% bonus and now has a +5% bonus. Health had a -4% penalty and now has +10% bonus. Damage had a -5% penalty and now has no penalty.

External links
Edit
Petopia

WarcraftPets