Deadwood Village
Talk

0
99,180pages on
this wiki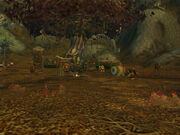 Deadwood Village Places a standard map coordinate, with hover popup location map, on a wiki page.
Usage

1= x= map x-coordinate
2= y= map y-coordinate
3= zone=
See Template:Coords/doc for instructions and examples.
---
Template
[48, 89] is a village of the Deadwood tribe of corrupted furbolgs in southern Felwood. The Deadwood furbolgs, like most of their kin, are corrupted and hostile. Killing the Deadwoods is a good way to gain reputation with the furbolgs of Timbermaw Hold.
Quests to get before arriving
Edit
In Cataclysm
Edit

This section concerns content exclusive to Cataclysm.
Deadwood Village is slightly expanded and more fortified. A wooden fence comprised of thick timbers encloses much of the Village and there are more sturdy structures inside.