Dodo
Talk

2
99,172pages on
this wiki
This article concerns content exclusive to Cataclysm.

* This article should only contain officially released content, such as beta and press release content.
This article or section is a lore stub. You can help expand it by editing it.

You might want to work with the other users of WoWWiki in expanding it.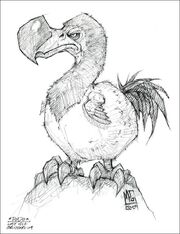 A dodo is a prehistoric species of flightless bird that likely resides on the Lost Isles. They have miniscule wings and large bodies, with massive, axe-shaped beaks.
Existence
The idea of dodo birds seems to have been scrapped and replaced with bush chickens, currently Wild Cluckers inhabit the Lost Isles.