Flesh titan
Talk

4
99,920pages on
this wiki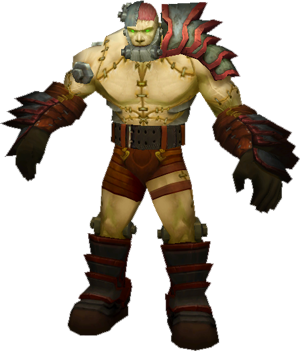 Flesh titans are the most powerful constructs of the Scourge. Built from the corpses of storm giants and the flesh of women and children stitched together. It is said that their souls are fused together — eternally bound within that foul prison of flesh.[1] What little knowledge there is points to the flesh titans as being far more intelligent than other constructs and possessing deadly electrical powers.
Notable flesh titans
Edit
Inspiration
Edit
Flesh titans seen to be inspired by Frankenstein's monster, another being stitched together out of spare parts and (at least in movie incarnations) revived with the power of lightning.
Dr Victor Frankenstein's Creation was stitched together using The Spare parts of Freshly Dug up Corpses in the attempt to create a perfect Human when Dr Frankenstein could not get a fresh enough Brain he killed the most intelligent man he knew however he had to also remove a tumour from the brain then electricity and lightning to wake him up in To Prove the Creation was not a monster He was given the name Adam in a version of the Play by the writer Mary Shelley However this was never addaed to the book itself Left with the intellect of a Proffessor  The Creation was also known to spend alot of time Hidden Away Reading & writing Poetry While Listening to classical music on a Grammophone pet dog with a this was to keep himself away from the Villagers that Called him as a Monster and attacked him with torches after Accidently killing 1 of the villagers defending himself he went into hiding he was later found & becomes friends with a Blind Girl that sees him for how kind and gentle he really is
| | |
| --- | --- |
| | This article or section includes speculation, observations or opinions possibly supported by lore or by Blizzard officials. It should not be taken as representing official lore. |
The name "flesh titan" is taken from the game files as no other name is known. It is likely the file name is in reference to the fact that the model uses the same skeleton and animations as the model used for the titans (or simply to reflect its size).
References
Edit