Not to be confused with Grakkarond.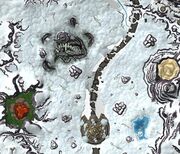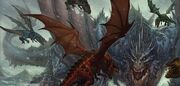 Galakrond, a massive proto-dragon,[1] was the "progenitor of dragonkind". From him, the Titans created the Aspects. His size alone was greater than all of the Aspects combined.[2] He was said to be extremely evil and attempted to destroy the other proto-drakes, forcing the many Dragonflights (lead by the red, blue, green, black, and bronze flights) to unite to defeat him. The leaders of each color of proto-drake became the Dragon Aspects[3].
Grand Necrolord Antiok is in charge of the failing effort of the Scourge to raise Galakrond as a frost wyrm.[4]
References Edit
See also Edit
External links Edit

WoW Insider
Know Your Lore: The Black Dragonflight
by Anne Stickney Feb 27th 2010 9:00PM
News

WoW Insider
Review of Dawn of the Aspects, part one by Richard A. Knaak
by Anne Stickney Feb 21st 2013 1:00PM