Heal
Usable by
Class
Priest
Properties
Type
Utility
School
Holy
Cooldown
 (GCD 1.5 sec)
Talents
Specialization
Discipline, Holy
Level required
28
TCG image
For the general term, see Healing.
| | | |
| --- | --- | --- |
| " | Bask in the warmth and feel your wounds fade away. | " |
Heal is a priest ability learned at level 28 for those with the Discipline or Holy specializations. The current version was introduced at a low level in Cataclysm; the "new" Heal spell functionally works much like a down-ranked [Greater Heal] that is intended to heal for a moderate amount and for when efficiency is an issue (making [Flash Heal] the incorrect spell for the job).
Modified by Edit
Item Level 25
Minor Glyph
Classes: Priest
Requires Level 25
Use: Permanently teaches you this glyph.

Your heal spells momentarily grant you angelic wings.
Sell Price: 1
Patch changes Edit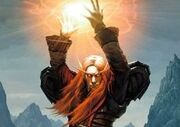 Patch 4.0.6 (8-Feb-2011): Heal, Flash Heal, Greater Heal, and Binding Heal effects are now consistent with their tooltips.

External links Edit