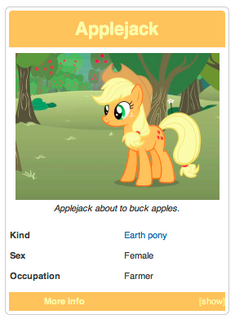 Infoboxes
are like fact sheets, or sidebars in magazine articles, designed to present a summary of the topic of the page. They present important points in an organized and quickly readable format.The sections of an infobox are usually the same from article to article to create consistency across the wiki. Infoboxes are made with
Templates
.
Step-by-Step
Wikis generally come with built-in infobox templates that can be customized to fit the style and content of the wiki and topic. Here's how to get started.
Open an article page for editing in visual mode.
In the right rail under the "Templates" section, choose the "Infobox" option. It will open a popup window for editing the content of your infobox.
The fields in the infobox editor may vary from wiki to wiki, but here are some standard options:
Box Title - the name at the top of your infobox -- generally also the title of the page.
Image - the full file name for the image you would like to appear in your infobox. (Make sure it's been uploaded first.) Example: File:Flower.jpg
Imagewidth - the width (in pixels) of the image as you would like it to display.
Row 1 title - the title of the first row of information (Example: Name)
Row 1 info - the content for the first row of information (Example: Joseph)
Fill out the content to the best of your knowledge, and click "Preview" to see your work.
When you're ready to add the infobox, click "OK" on the infobox editor, and then "Publish" on your page.
Congratulations on adding your first infobox!
You can adjust the code that manages your infobox by editing the source of your infobox. If you're using the standard infobox template, this page will be at Template:Infobox on your wiki.
Advanced Customization
Some wikis create elaborate infoboxes with advanced custom CSS and template code work. All code is publicly available on Wikia, so you can simply look at their template files to see how they created it, and borrow ideas for your own infoboxes. If you need help with technical details, you can ask for advice from other users who've edited infoboxes successfully before, or raise a question in our Community Forums.
Examples
See also