Lightning Bolt
Talk

1
99,185pages on
this wiki
Lightning Bolt
Usable by
Class
Shaman
Properties
Type
Offensive
School
Nature
Cooldown
 (GCD 1.5 sec)
Level required
1

TCG

image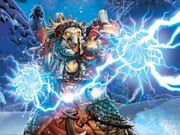 "

Shamans know that lightning

can

strike twice in the same place.

"
Lightning Bolt is a core shaman ability learned at level one. It is a Nature-based direct damage spell.
Modified by
Edit
Item Level

25

Major Glyph
Classes: Shaman
Requires Level 25
Use: Permanently teaches you this glyph.
Causes your Lightning Bolt to restore 2% of your mana when it strikes an enemy.
Sell Price: 1
It uses the lightning animation instead of the normal nature animation.
Has traveling time, so can be combined with

[Chain Lightning]

or a Shock which are instant for spike damage.
This is a good spell to start fights at lower levels. Untalented and used against a foe with no speed boosting abilities at max range, you can cast 3 Lightning Bolts in the span of time it takes for a mob to reach you. You can even cast a shock just as the third Lightning Bolt finishes casting to max out damage against a pulled, incoming mob.
It is also more likely to use during combat because of its 2.5 second casting time as opposed to other classes' similar function spells and is fairly mana-efficient.
Patch changes
Edit
External links
Edit