Magtheridon's Head
Talk

0
98,452pages on
this wiki
Magtheridon's Head

Item Level

70

Requires Level 70
"All that remains of the hellspawn, Magtheridon."
Magtheridon's Head is all that remains of the Pit Lord Magtheridon, who is finally defeated by a raid of adventurers into Outland. Once turned into Force Commander Danath Trollbane in Honor Hold or Nazgrel in Thrallmar, all of Hellfire Peninsula receives a two-hour area buff, boosting reputations with their respective bases.
Alliance receive the buff Trollbane's Command; Horde receive Nazgrel's Fervor.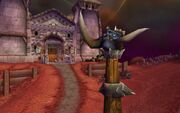 Source
This item drops from Magtheridon in Magtheridon's Lair.
As a quest objective
Starts the quest:
The reward of both quests is the same, offering one of these four to select:
The Fall of Magtheridon

Item Level

125

367 Armor
+34 Stamina
Equip: Improves your defense rating by 20.

Item Level

125

+22 Stamina
+22 Intellect
Equip: Improves hit rating by 16.
Equip: Increases spell power by 28.

Item Level

125

+25 Intellect
+21 Stamina
Equip: Increases spell power by 29.
Equip: Restores 8 mana per 5 sec.

Item Level

125

+24 Agility
+27 Stamina
Equip: Increases attack power by 54.









External links
Alliance

Horde