Glyph
Talk

19
101,390pages on
this wiki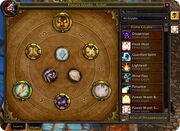 Glyphs are spell and ability enhancements created by scribes. Until used, they are not soulbound and can be traded or sold. The colors used in Glyphs are colors of the class for which they are meant. Glyphs are optional and not vital to game completion, although they may provide an edge.
Once learned, glyphs are permanent and may be switched out at any time outside of combat. Changing a glyph requires a [Vanishing Powder] for characters level 25-80, and a [Dust of Disappearance] for characters over level 80.
Prime glyphs
Edit
Prime glyphs are effective in combat, and generally increase the healing or damage of an ability.
Examples: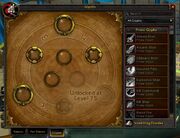 Major glyphs
Edit
Major glyphs feature spell changes that may increase the damage, or another feature of the spell. Some of these glyphs have trade-offs. For example increasing direct damage but removing a DoT effect of the spell.
Minor glyphs
Edit
Minor glyphs give convenient or cosmetic improvements, such as reducing a spell's cost or removing the need for a spell's reagent.
Examples:
Some minor glyphs do have a more substantial effect, such as reducing cooldowns (

 [Glyph of Challenging Roar],

 [Glyph of Lay on Hands]) or increasing damage (

 [Glyph of Sense Undead]) so don't dismiss minor glyph slots straight away.
Class-specific Glyphs
Edit
Death Knight
Edit