Mistlurker
Talk

0
102,684pages on
this wiki
Not yet released!

This article or section includes information about announced content that has not been released yet. The expected release date is unknown.
Please remove this template when the content has gone live.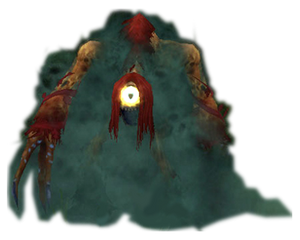 Mistlurkers appear to be large, bipedal creatures (taller than an ogre) of a form of magically animated mist often covered with hair-like vegetation. They usually have a single eye above the mouth of their narrow heads. Lorewalker Cho needs adventurers to kill Mist Creepers and a Mist Horror to take its [heart] to make [Dream Brew].[1]
Known
References
External links

WoW Official Game Site (US)
Bestiary


WoW Official Game Site (EU)
Bestiary