Netherwing drake mounts
Talk

0
102,033pages on
this wiki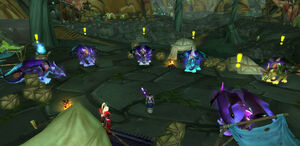 These items all summon Netherwing drakes, and all the PvE ones require Exalted status with Netherwing to acquire. You start the quest line at the crystals south from Warden's Cage. There is a blood elf wandering around the crystals. You proceed to the Netherwing Ledge and start doing daily's. You can also get reputation by collecting Netherwing eggs around the Netherwing Ledge and mines and the orc camp southeast Warden's Cage.
The first egg gives you +350 rep and all after that gives +250 rep. The eggs appear out in the open and are easy to spot: they are covered with spikes and have a smoke coming from them. Eggs spawn at certain locations.
When you first achieve Exalted with Netherwing, you are given the opportunity to acquire a free Netherwing drake mount via a quest. You can only choose one for free and then you can fly to Netherwing Ledge to buy all the other colors.
The vendor, Drake Dealer Hurlunk, sells all of them for 200

each.
See also
Edit