Portal:Main/User News
Talk

1
98,517pages on
this wiki
__NOWYSIWYG__
Lists for reference
Latest WoWWiki news
Created date
Blog user/title
Last edit user
December 22, 2012
Fandyllic/2012 WoWWiki holiday card!
Fandyllic
September 18, 2012
Raylan13/WoWWiki and the Fantasy Fellowship
Raylan13
September 4, 2012
JoePlay/Mists of Pandaria Giveaway
Raylan13
June 27, 2012
Raylan13/Opinion: 3D Model viewer
Raylan13
March 24, 2012
Raylan13/Updated news blogs!
Fandyllic
February 16, 2012
Raylan13/Opinion: Achievements for WoWWiki
Fandyllic
January 12, 2012
Raylan13/WoWWiki BlizzCon swag contest
Fandyllic
December 16, 2011
Fandyllic/Wikia sends Fandyllic a nice holiday card
Fandyllic
September 1, 2011
Fandyllic/Some ideas to get back subscribers for World of Warcraft
Fandyllic
July 8, 2011
Raylan13/Summer Swag winners announced!
Fandyllic
June 24, 2011
Fandyllic/Ask CDev Round 2 answers actually arrive before escape of moon!
Fandyllic
June 21, 2011
Raylan13/Summer Swag contest
Raylan13
April 12, 2011
Raylan13/Quest page change coming
Raylan13
February 7, 2011
Raylan13/WoWWiki looking for new admins!
Raylan13
January 24, 2011
Raylan13/Wikia upgrading to MediaWiki 1.16.1
Fandyllic
December 30, 2010
Ausir/WoWWiki news blog launched
Ausir
December 30, 2010
Ausir/Keep or remove new optional features? Help us decide!
Ausir
December 30, 2010
Ausir/New Cataclysm-themed look
Ausir
---
---
Appears on main page
---
read more...
December 4, 2012
Cinder Kitten available!
by Raylan13

From the halls of Blizzard:
Now up for adoption in the Pet Store: the Cinder Kitten, a fiery little feline looking for a home to warm. Adopt this adorable rascal, and you'll help bring relief to the victims of Superstorm Sandy in the process.
From now until December 31, 2012 at 11:59 p.m. PST, 100% of the $10 USD/10€ (9£) adoption fee will be donated to the American Red Cross's Superstorm Sandy relief efforts. This support will enable the Red Cross to provide shelter, food, emotional support, and other assistance to victims of this disaster.
Visit the Pet Store to adopt a Cinder Kitten: North America, Europe
Check out a full preview of the Cinder Kitten here: NA Blog, EU Blog
---
read more...
July 30, 2012
Valley of the Four Winds Finale
by Raylan13
Chen Stormstout

,

Li Li

, and

Mudmug

are content with staying at Stormstout Brewery now that we helped clear out a bit of the riffraff and secured Thirsty Alley. As we mentioned before, it seems we're just in time in returning things to normal, for an

emissary

has come all the way from Stoneplow for

some emergency beer rations

. We don't quite have a clue what we might be facing as we head down the western road, but as we make our way further from the Alley and Brewery, the surroundings become a bit more wild. Mushan graze in giant packs off to the south, while wolves prowl the grasses and trees to the north.

Stoneplow seems relatively peaceful, but there's a noticeable lack of farmhands in what is supposed to be a farming community. Looking further west we begin to see why: the fields are blackened closest to the Great Wall, with smoky white tendrils writhing from the ground. This can only mean one thing: the sha have somehow corrupted the area. The mantid in league with them are flying over the wall from the Dread Wastes, and it is only the bravery of a few Shado-Pan that hold them back.

Commander Loon Mai is in charge of the defensive forces, and also oversees the evacuation of his fellow pandaren. With his troops stretched so thin he cannot gather all the people himself, and so we volunteer for the task. While gathering our wits, we also meet with a familiar face, Lin Tenderpaw. She has stopped her on her way to find the Hidden Master. Though young, she can see just as well as any that the monks cannot hold back the mantid forever, and so suggests we do our part to thin their ranks. It only makes sense, as we'll be in the fields anyway.

Not at the pandaren are receptive to the evacuation order. A few families adamantly refuse to surrender their lands to the invaders, especially since they've tilled them for generations. Loon Mai doesn't seem too surprised by this; he'll keep his monks fighting for as long as he can. In the meantime, it seems he knows about the "Hidden Master" that Lin and her friends are searching for. He points us in the direction of Paoquan Hollow, a creepy forest not too far to the north. Lin can't even wait for us, so full of excitement, and she sprints off with little more than a "hope to see you there".

Paoquan Hollow is filled with mist. It's an eerie place, so unlike the rest of the Valley we've already seen. Fireflies dance in the gloom, while massive shapes appear and disappear. There's but a central path that leads through the dense fog, little used, and it stops at a small hut that suddenly looms before us. There's Lin, already trying to continue her training with the Hidden Master.

Master Bruised Paw instantly puts us through some rigorous training. We smash through bamboo, wood, and stone; we light fires in the mist and take on the shambling dangers head-on; we even climb high in the hills to gather a variety of eggs from the woodland birds, all to have the Master use them as part of our training! When all is said and done, we are tired but proud, having worked through the worst he had to throw at us... and poor Lin is left still attempting to learn just the beginning basics as we say our farewells to the strange old pandaren.

Thus ends our journey through the Valley of the Four Winds. Loon Mai thanks us for our help when we return to Stoneplow, and we are left to our own devices. We hear there may be a famous hunter in the south, his camp perched high atop the cliffs bordering the Krasarang Wilds. Yes, there he is, with some new faces and his son. Ready to send us off hunting wild game, hunting bigger game...
---
Go back to Valley of the Four Winds Part III
---
read more...
July 27, 2012
Valley of the Four Winds Part III
by Raylan13
Chen's

discovery

at Stormstout Brewery might have broken any normal pandaren, but Chen resolves to prove himself to not only

Uncle Gao

but the entire valley community. How? By doing what any self-respecting Stormstout would do:

brew the perfect beer

!

To do this, Chen needs supplies, and the best place to get them is at Halfhill and the market. Just like the other areas we've encountered in the Valley, Halfhill is experiencing its own problems. If his perfect brew is to ever see the light of day, Chen, Li Li, and Mudmug must take separate paths for a short while, each pursuing a different but necessary component for the brewing process. Chen starts by gathering the barrels needed, but then sends us in search of hops to the Heartland.

The Heartland serves as the agricultural center for Pandaria, and it makes sense that the farmers here would have some hops to spare. But it doesn't come without a price. Each has tasks they would have us complete before handing over their valuable hops. We slog through the labors, watering crops at a breakneck pace, fighting (more) virmen, and fighting back various waves of weeds.

Along the way back to town we spot Mudmug standing at the edge of the marsh. Seems he's there to hunt down some water for Chen, so we dive right in and assist. There are a few surprises we have to deal with while scooping water, but soon we have enough and Mudmug carries them back to Halfhill with us (he's pretty strong!).

All that's left to do is find Li Li at the Imperial Granary. It's a short walk from town, and when we get there it's no big surprise this isn't going to be an easy request to fulfill for grain. For starters, we have to taste each kind to figure out which is the best... and Li Li is disappointed to find that none of them will quite work out. So she sends us over the cliffs and into the Krasarang Wilds on a wee little foray to get some well-guarded cave barley. On the way we help recover some stolen grain, thin out the pesky sprites, and depose their leader.

With his newly completed brew, Chen is ready to return to Stormstout Brewery. There's a just one, small catch: when we get there, the entire area is overrun with virmen and drunken hozen! In clearing the way, we encounter an exceptionally large hozen who has trapped the pandaren in barrels and also gather some "special" water for Mudmug. Can't let a good mob go to waste!

With the exterior clear, Chen turns his attention to the Brewery itself. He, Mudmug, and Li Li help us attack the major denizens one at a time, and soon things are right again, at least for the time being. But Chen knows something deeper and darker lurks in the Brewery, something that will have to be confronted if he is to reclaim his birthright.

For now, he is content with our progress. Not a moment too soon, an emissary arrives from the western town of Stoneplow, seeking refreshment for the troops. She also carries with her news of another threat...
---
Continue to Valley of the Four Winds Finale
Go back to Valley of the Four Winds Part II
---
read more...
July 25, 2012
Valley of the Four Winds Part II
by Raylan13
Now that we've fought off the virmen and rescued the herd animals, we follow

Chen Stormstout

from Shang's Stead.

Li Li

, his niece, is ready to go as always, eager to explore the whole of Pandaria as quickly as she can. She's more than a little annoyed with Chen's steady, slow pace, but he's quite comfortable taking his time... for now.

Halfway down the hill our little trio chances upon a lone pandaren gazing across the fields. Compared to the pandaren we've met thus far, he has a distinctly... southern... drawl to him. He is none other than Mudmug, a local brewer who uses muddy water for his beer. But his ability to brew has been hampered by the virmen. With beer threatened, Chen is quick to offer aid, or at least our aid.

Li Li has some great ideas for confusing the virmen, but Chen is more of a "to the source" kind of person. First he wants to take out the alphas, then the warren-mother herself!

All that's left before sampling Mudmug's concoction is to retrieve some stolen hops. Settling down after a long and grueling fight with the virmen, Chen, Li Li, and Mudmug share the home brew with us, and Mudmug lets slip there's this place called "Stormstout Brewery". Chen is interested at once, and suddenly a sense of urgency overcomes him. He departs for his family's brewery, leaving Li Li to her own devices.
Stay here, Li Li.
Sure thing, Uncle Chen!
So the first thing she wants to do, naturally, is some exploring. We tag along in order to keep her safe.
Along the way we meet some new folks who are eager for our help. The workers at the Silken Fields are beset by mutated creatures of their own making, and we need to thin their numbers and take down the mutant mother moth. While we're there, we also get a short lesson in where silk comes from.
New Cifera and the bordering Pools of Purity offer a sense of tranquility but they, too, have problems of their own (at least it isn't virmen!). Between a disgruntled wife and fisherman and encroaching turtles, we've got some work cut out for us. Yet there's some time to help a local chef make some jam from fish eggs (yum!) and we meet up with Clever Ashyo, one of the companions of Xiao that went in search of the Hidden Master. While he may not have found the old fighter, he does have a vision that alludes to the mythical Vale of Eternal Blossoms.
Just in time, we return Li Li to Mudmug's Place, just as Chen arrives from having visited the Brewery. For a pandaren, he seems especially despondent, and it soon becomes apparent why. He tells a story so captivating that we can see through his eyes as he steps inside his family's brewery, only to be ignored by a surly pandaren. The old chap doesn't so much as return Chen's greeting, and seems more than eager to kick him out. Chen also finds some rather unsettling inhabitants in the brewery, including an alemental and a drunken hozen. Shunned and crushed, Chen departs the Brewery, though he is adamant he will return to discover what has happened.
Just not today...
---
Continue to Valley of the Four Winds Part III
Go back to Beta testing: Valley of the Four Winds
---
read more...
July 24, 2012
Beta testing: Valley of the Four Winds
by Raylan13

With the Jade Forest closed to players, we headed back into questing by diving into the Valley of the Four Winds. Unlike the Forest, this is a neutral zone, and the vast majority of our interactions are with the local pandaren. The Valley serves as an agricultural center for Pandaria, many of the giant crops within the Heartland fed by waters cascading from the Vale of Eternal Blossoms. The local farmers are beset by virmen in the east, while those in the west are rapidly losing their lands to the mantid swarming over the Great Wall from the Dread Wastes.
First, a few vistas to get us off on the right foot:
Upon first stepping foot into the Valley we meet with the most well known pandaren: Chen Stormstout. He is taking a small break from travels with his niece, Li Li, right at the first crossroads. After a brief interaction, we join him in taking a short walk up the road to Pang's Stead, where we meet the head of the pandaren family that owns much of the eastern lands, Pang Thunderfoot. We find that his family's crops and livestock are being threatened by virmen and all manner of beasts. With Chen deciding to take (another) break, we take some time to help Pang out. This involves slaying a few of the pests, retrieving some tools, and then helping out down at Thunderfoot Farm.
After gathering a few food supplies, we launch them by mushan to Thunderfoot Ranch. This is a small pig sty run by Liang Thunderfoot, who has issues of his own. Not only does he need meat for his pigs, but some of them have wandered off into the hostile fields. A few mushan and turtles later, and we have the required meat; the three little pigs take a bit longer to track down, but are mercifully unharmed.
We do such a good job, in fact, that Liang sends us to check up on Francis the Shepherd Boy, bringing his lost lamb back to him. It seems that Francis's flock is under constant attack by wolves and hawks, but he's too frightened to do anything about it. Fighting them away is no small task, but we gladly do so, and then contend with the pack leader and a giant hawk. Shang Thunderfoot, Francis's master, isn't too pleased with the boy's cowardice, but we are invited to meet him at his place just down the road.
Chen Stormstout and Li Li meet us there, and we'll soon meet one of the strangest pandaren this side of the Valley...
---
Continue to Valley of the Four Winds Part II
---
read more...
June 12, 2012
Vale of Eternal Blossoms: Screenshots and Video
by Raylan13
At last, the final zone was opened for the Mists of Pandaria expansion. After the darkness and horror of the Dread Wastes, the Vale of Eternal Blossoms is like a breath of fresh air. The trees are in an eternal state of autumn, with golds spread everywhere. The same can be said of the grasses, but while the grasses of Kun-Lai Summit might share a similar hue, there is a distinct impression that these golden blades are vibrant. Lakes and pools abound, all tucked behind the safety of the great wall.

Besides the great gate separating the Vale from the Dread Wastes, or the gate opening to Kun-Lai Summit, the most impressive structures in the west are the pair of giant mogu statues standing above the Golden Pagoda. Yes, these are very same that are on the new log in screen for the expansion. Passing through them to the east introduces a whole new level of awe, as the stunning Alliance and Horde shrines, main cities for the continent, stand on both sides of the towering Mogu'Shan Palace.

The entire area, at least for now, seems fairly phase-heavy, the mobs (and some NPCs) encountered depending on the quests you happen to be working on. Nearly all of the new factions have their representatives within the two shrines, ranging from the Golden Lotus to the Lorewalkers. Most have a variety of daily quests, and some of the quartermasters can be found within as well. In addition, most of the amenities one might expect in Stormwind City or Orgrimmar are present, including a bank and auction house.

This is one of the most beautiful zones in all of Pandaria, but it isn't without its dangers. Mogu and mantid, spiders and saurok, all can be found here...
Landscapes
Structures/Villages
Video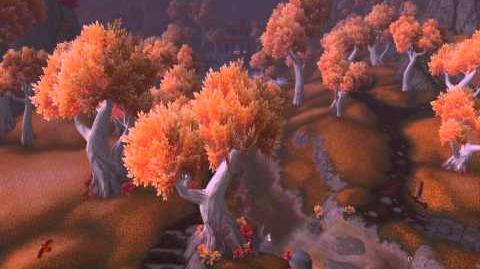 ---
Continue to Beta testing: Valley of the Four Winds
Go back to Dread Wastes: Screenshots and Video
WoWWiki news
---
read more...
August 31, 2011
Some ideas to get back subscribers for World of Warcraft
by Fandyllic
I will try to keep this blog post up to date and modify it based on commentary.
Commentary and ideas
Commentary on casuals...
As much press as hardcore players get around World of Warcraft, the difference in making money or not for Blizzard Entertainment is not the hardcore players. Hardcore players don't represent the majority of players, but use up a vast majority of the resources in the game. This is because it is obvious that Blizzard spends a majority of its time catering to hardcore players. They spend inordinate amounts of time creating, refining and tweaking top-level raids, creating and tinkering with itemization for top-level raids and heroic instances, and responding to complaints and support requests from raiders. Blizzard is falling into the squeaky wheel trap.
Because of this misplaced focus on hardcore players and their desire for top-level content, Blizzard is losing casuals. Casuals is what separates World of Warcraft from most MMOs. When the game first came out it was by far the most casual friendly MMO with the most depth and wise gameplay compromises. Blizzard has lost its way from this winning formula and so it is losing casuals[1] at a rate too fast to maintain growth or even keeping at a plateau.[2][3]
Why are casuals so important? Because they pay as much as hardcore players, but use far less of Blizzard's resources. If the trend continues, Blizzard will continue to spend more and more resources on less and less players. It could become a vicious cycle.[4] This time is still probably quite far off, since Blizzard can probably justify and maintain adequate content release cycles as long as their player base remains in the multiple millions, but they appear to be on the downside of the game's life-cycle[5] and are doing very little to really reverse the trend.
Commentary on twinks
Another group of players, some of whom could actually be considered "hardcore" in many respects, that Blizzard is also neglecting is the twink community. Blizzard has apparently long voiced its support for the twink community, but hasn't really delivered in their laser focus on end-game content.[6] Although they acknowledge the problem, Blizzard has actually stated that their priority is on max-level PvP and that they apparently don't want to divert resources away from that.[7] The twink community is less interested in immersion, lore, and quests than some of the casual community, but they definitely want focus on non-level cap, non-end game content. The twinks want attention to class balance and itemization at lower levels. So, as casuals will spend more time leveling at low levels, some of the benefits gained from aiding either twinks or casuals will benefit both.
General
Allow the use of rest as a sort of currency or pre-req for some content.
Remove as much grinding as possible. Basically, this means put something in dailies or other rep grind activities far more optional.

Dailies should give you something useful like profession ingredients, drink, food, potions, etc. and not just money and rep.
Dailies should help complete some larger task, like the opening of Ahn'Qiraj or the various phases of Isle of Quel'Danas.

Make more dailies for different levels, but with much shorter rep grinds (remove the big grind to exalted for dailies below the level cap).
Adjust all-level dailies to be divided among racial capitals to make each a quest hub for different level ranges of players. This way, there would be less congestion.

Stormwind City/Orgrimmar for level 81+.
Dalaran for level 71 - 80.
Shattrath City for level 61 - 70.
Ironforge/Undercity for level 41 - 60.
Darnassus/Exodar/Thunder Bluff/Silvermoon City for level 1 - 40.

Add more low level instances in or near racial capitals not congregated by level cap players.

These low-level instances, if done right can also serve the cross purpose of working on twink class balance through itemization coming out of these new instances.

Make frequenting less central racial capitals easier by making getting in and out or getting between key buildings easier.

Put flight path destination inside Exodar/Undercity or portal inside from flight path.

Allow players to become quest givers to trade soulbound items for profession ingredients.
UI for trading macros in-game.
Tune quests in zones more so leveling matches zones better.
Add back longer questlines lower and mid-level (<level 60), many of which were removed with Cataclysm.
Professions
Allow players to craft for other players who have soulbound ingredients, but only one type of ingredient at a time and possible only once per day/week/month.
Fix Archaeology so it isn't so boring:

Add finds that point directly to a new dig site zone rather than mostly random hunting.
Allow random items to be found at dig sites that seem at least semi-relevant to archaeology, like recipes, jewelry, etc.
Since Archaeology is a secondary profession, make different areas accessible based on a related primary profession.
...or just kill it entirely.

Fix First Aid so there are more useful products like:

More powerful bandages at high levels.
More powerful anti-venoms.

Allow "deconstructing" cloth items for cloth items.
Business changes
Introduce tiered subscription rates depending on what expansion you have up to. The current model is unfair and new subscribers who don't want to buy all the expansions know it.
Come out with "Battle Chest" omnibus software boxes with all but the last expansion included faster and for a lower price (say around US$40-60/€30-50).

Blizzard recently offered vanilla and for US$20,[8] so they're already going in that direction, but this offer may be promotional and expire at some point.
Pie-in-the-sky
Player representation committee to Blizzard. Maybe like EVE Online's CSM (Council of Stellar Management).
Allow groups of guilds to form "nations" (or "unions"?).
Guild housing.

Player housing. This isn't that important, unless it can be done in a way that doesn't strain server resources too much.

Player built environment elements (bridges, buildings, farms, tunnels, etc.).
References