Quest:Stocking Stalks
Talk

0
102,686pages on
this wiki
Not yet released!

This article or section includes information about announced content that has not been released yet. The expected release date is unknown.
Please remove this template when the content has gone live.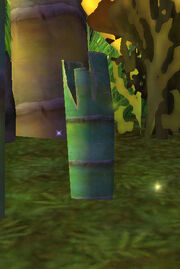 Objectives
Gather 10 Broken Bamboo Stalks.
Description
My men are malnourished, injured, and exhausted, but they are Horde. Every one will fight to their dying breath. As our new ally, we will stand by you when the time comes, but we would stand stronger with weapons.
I have my men out gathering bamboo stalks to fashion into spears. If you can spare the effort, we could use the extra pair of capable hands.
Completion
These are excellent! We'll have them crafted into weapons in no time.
Rewards
You will receive:
Progression
Patch changes