Quest:The Ring of Blood: Skra'gath
102,708pages on
this wiki
Talk

0
The Ring of Blood: Skra'gath

Start
Gurgthock
End
Gurgthock
Level
67
Requires Level 65
Type
Group
Category
Nagrand
Experience
14,600 XP
or 8759 at Level 90
Reputation
+10 Kurenai for Alliance or +10 Mag'har for Horde
Rewards
5 Super Healing Potion
5 Super Mana Potion
20 Heavy Netherweave Bandage
11 10
Repeatable
No
Next
 [67] 

The Ring of Blood: The Warmaul Champion
Objectives
Defeat Skra'gath.
Skra'gath Defeated
Suggested Players [5]
Details
Round four of The Ring of Blood. This time you will be facing Skra'gath, a level 66 elite Demon (Voidcaller).Skra'gath does AoE knockback, spell-interrupt and has a chance to gain health when damaging enemy in melee.
Description
You're murderin' 'em out there, kid! They got a ringer for the next match. They say he's a void lord or something... No way do they want you up against their champion. Did you here that palooka, Mogor, yapping at you? The bets are through the roof!
Get in that ring and take this one out fast!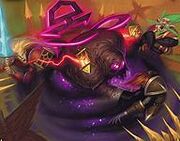 Rewards
Quest progression
The Ring of Blood: Brokentoe

Start
Gurgthock
End
Gurgthock
Level
67
Requires Level 65
Type
Group
Category
Nagrand
Experience
11,650 XP
or 6989 at Level 90
Reputation
+10 Kurenai for Alliance
+10 Mag'har for Horde
Rewards
11 10
Next
 [67] 

The Ring of Blood: The Blue Brothers
Objectives
Defeat Brokentoe.
Brokentoe Defeated
Suggested Players [5]
Details
Brokentoe, a level 66 elite Clefthoof, is the first opponent you will face when starting The Ring of Blood. It's a basic tank-and-spank fight, no special tricks. The person that starts the quest will have initial aggro, so it might be wise to let your tank start the event.
Description
So are you ready for your first battle? If you are, let me know and I'll get things started. All you have to do is go wait in the Ring of Blood for your opponent to arrive.
This fight is against Brokentoe, a ferocious clefthoof.
Good luck! I hope you brought friends.
And remember, the fight's over when either you or your opponent are lying face down on the arena floor.
Reward
Quest progression
External links