Quest:Tiger Mastery (Pandaria)
Talk

0
101,313pages on
this wiki
Not yet released!

This article or section includes information about announced content that has not been released yet. The expected release date is unknown.
Please remove this template when the content has gone live.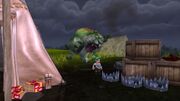 Objectives
Kill 15 Gorge Stalkers.
Description
Tigers! No matter what land I go to I hear about these big fanged beasts. And yet I haven't had a chance to hunt any of them.
Let's go hunt some tigers. I'll go east, you go west. I think I saw some near Dustback Gorge[13, 76.2]. I'm sure there are tons near those mushan.
Completion
Wow! You really racked up a count. I'll chat with Mr. Pleeb about getting the best one converted to a trophy for you.
Rewards
You will receive:
You will be able to choose from the following rewards
Item
Class
Spec(s)
 

[

Hemet's Satin Leggings

]

 Priest
 

[

Hemet's Ringmail Leggings

]

 Shaman
 

[

Hemet's Silk Trousers

]

 Mage
 Warlock


 

[

Hemet's Chain Leggings

]

 Hunter
 Shaman


 

[

Hemet's Armored Legguards

]

 Death Knight
 Paladin
 Warrior



You will be able to choose from the following rewards
Item
Class
Spec(s)
 

[

Hemet's Hide Legguards

]

 Druid
 Monk


 

[

Hemet's Burnished Legplates

]

 Paladin
 

[

Hemet's Leather Legguards

]

 Druid
 Monk
 Rogue



 

[

Hemet's Heavy Legguards

]

 Death Knight
 Paladin
 Warrior



Progression
Complete the following:

 [86] 

Tiger Mastery

 [86] 

Mushan Mastery

 [86] 

Tortoise Mastery

 [86] 

Parental Mastery
Patch changes
External links