Ruins of Kargath
Talk

0
99,171pages on
this wiki
This article concerns content exclusive to Cataclysm.

* This article should only contain officially released content, such as beta and press release content.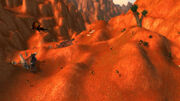 The Ruins of Kargath lie in rubble within the Badlands after the Cataclysm. The area is now overrun with Nyxondria Broodlings, small black dragon whelps, guarded by their ever watchful parent, Nyxondria.