Shadow Wing
Talk

15
98,461pages on
this wiki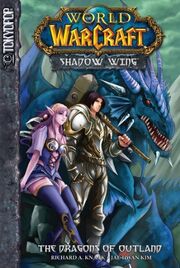 World of Warcraft: Shadow Wing[1][2] is a

Burning Crusade era manga trilogy.
Description
Tyrygosa and Jorad Mace may have triumphed over the undead in their quest for the Sunwell, but can even this dauntless duo survive a ruined dimension populated by dragons that should not exist?[2]
It has the following known features;
Books
Characters
Trivia

The trilogy was originally named Dragons of Outland.
References
External links

BlizzPlanet
BlizzCon 2008 - World of Warcraft: Night of the Dragon Q&A, posted Posted 13th Jan 2008 11:55 AM by Medievaldragon

BlizzPlanet
World of Warcraft: Night of the Dragon - Richard A. Knaak Video Interview (only a few things about Dragons of Outland), posted Dec 31st, 2007 08:00 PM by Medievaldragon

BlizzPlanet
Warcraft Pocket Books Store