102,708pages on
this wiki
Talk

0
This article or section is a lore stub. You can help expand it by editing it.

You might want to work with the other users of WoWWiki in expanding it.
Spiketooth an orc who worked for Rehgar Earthfury and travels with his caravan.

This section concerns content exclusive to Cataclysm.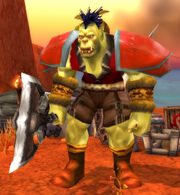 Spiketooth is now working as a slavedriver at Deadeye Shore in Durotar. Vek'nag is under his employ. Along with his three gladiators (slaves): Ghislania a naga, Griswold Hanniston a worgen, and Gaur Icehorn a taunka.
External links
Edit