Steady Shot

Steady Shot
40 yd range
2 sec cast
Requires Ranged Weapon
A steady shot that causes 50% weapon damage plus X. Generates 14 Focus.

Usable by
Class
Hunter
Properties
Type
Offensive
School
Physical
Cooldown
 (GCD 1 sec)
Level required
3
Other information
Requirements
Requires Ranged Weapon
TCG image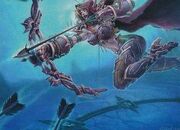 Draw… inhale… exhale… release. — Amaria Kelsur
Steady Shot is a hunter ability learned at level three that is free to cast, causes damage, and helps regenerate Focus.
Modified by
Notes
Steady Shot cannot be used while running.
It is a casting ability, suffering from delays by enemy attacks.
Tips and tactics
To understand how steady shot is affected by haste ratings it's important to understand how haste is calculated. A haste bonus is multiplied by frequency to achieve post-haste speed. World of Warcraft expresses all speeds as period rather than frequency, so the period must be divided by 1+bonus.
As for example in the above case:
Steady Shot Cast Time = 2 / 1.15 (hunter base ranged haste) / 1.2 (Serpent's Swiftness) = 1.4493
1.4493 + 0.5 + 0.2 = 2.149
2.149 x 1.15 x 1.2 = 2.966
Steady Shot is affected by haste bonuses and ranged attack speed bonuses including Rapid Fire and Bloodlust.
Hunters are the only class whose GCD is unaffected by haste.
Patch changes
            This patch made Arcane Shot and Steady Shot do roughly the same amount of damage.

Patch 1.5.0 (2005-06-07): Special ability shots no longer add the ranged weapon speed or take into account ranged weapon haste when determining the actual cooldown. The tooltip and cooldown timers should now properly reflect the actual cooldown. 

External links