| | |
| --- | --- |
| | The subject of this article or section was part of the Gates of Ahn'Qiraj, a world event that heralded the opening of Ahn'Qiraj. This is no longer available as event is permanently over as of patch 3.2.0. |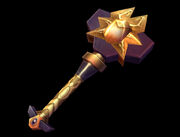 The Scepter of the Shifting Sands is an item created from an extremely long quest chain. The beginning of this quest chain begins in Cenarion Hold. This scepter is required to ring the gong that opens the Gates of Ahn'Qiraj, thus allowing the entire server access to both the Ruins of Ahn'Qiraj and the Temple of Ahn'Qiraj. This quest is still accessible even if the gates are already open. A raid group is required during some parts of the quest.
Videos
Patches and hotfixes
Patch 1.9.0 (03-Jan-2006): Added.

Patch 4.0.3 (15-Nov-2010): Unobtainable because of world changes and missing quests.

See also
External links
News

WoW Insider
WoW Archivist: Scepter of the Shifting Sands
by Nico Deyo Aug 30th 2011 at 1:00PM