Upper Blackrock Spire
Talk

0
102,388pages on
this wiki
Redirected from UBRS
This article or section is likely to dramatically change once the Warlords of Draenor begins.

Feel free to update any incorrect values (e.g. ability and talent articles), but please avoid overwriting all previous information with more current information (e.g. location and NPC articles).
Upper Blackrock Spire
UBRS
Upper Blackrock Spire bosses
Location
Inside Blackrock Spire, Blackrock Mountain
Race(s)
 Black dragonflight
 Orc
End boss
General Drakkisath
Instance info
Type
Dungeon
Advised level
55-65
Minimum level
48
Player limit
5
Key

[

Seal of Ascension

]

(not required)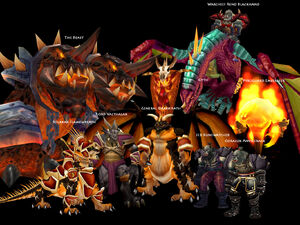 Upper Blackrock Spire was originally the 10-man part of Blackrock Spire; in Patch 4.0.3a it was converted into a 5-man dungeon.
In Warlords of Draenor
Edit

This section concerns content exclusive to Warlords of Draenor.
For a limited time, during patch 6.0.2 (the pre-Warlords of Draenor release event), a special level 90 version of the instance was open to players, featuring new bosses tied to the Warlords of Draenor expansion. These bosses included: Orebender Gor'ashan, Kyrak, and Commander Tharbek.
The Blizzard announcement for this event read:
"An advance party of Iron Horde forces has barged right out of the Blasted Lands and pushed all the way to Blackrock Mountain, where they found refuge and supplies in Upper Blackrock Spire. There can be only one response: the Alliance and the Horde of Azeroth must face this iron incursion head on."

This instance was updated, with a Heroic mode (level 100) version for the

Warlords of Draenor expansion. In addition to the three bosses mentioned above, this permanent version contains two additional bosses: Ragewing the Untamed and Warlord Zaela.
See: Blackrock Spire
Entrance
Edit
Before the release of the Patch 3.0.8 expansion, the raid required completion of the quest

 [57] Seal of Ascension, to acquire the Seal of Ascension. However, this is no longer needed, as the door that leads to Upper Blackrock Spire is now permanently open.
To enter the Upper Spire, use the same entrance as the Lower Spire and follow the left wall as you enter. You will ascend a small flight of stairs and into a hall with smaller side chambers. Each chamber is filled with mobs and a small glowing rune. Defeating the mobs in a chamber will deactivate a rune and once each has faded, a double door at the back of the hall will open.
Geography
Edit
Rage Talon Dragonspawn
Chromatic Dragonflight
Encounters
Edit
Blackrock
Edit
Obtained from Duke Hydraxis on the island northeast of the southern peninsula of Azshara
Badlands
Edit
Burning Steppes
Edit
Lower Blackrock Spire
Edit
Orgrimmar
Edit
Stormwind
Edit
Upper Blackrock Spire
Edit
Winterspring
Edit
Video guide
Edit
How to solo Upper Blackrock Spire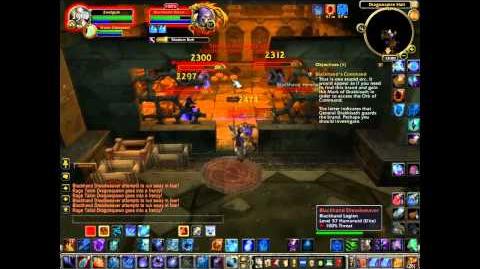 See Blackrock Spire loot.
Patch changes
Edit
External links
Edit