Angus Flamestone

Title
Guild leader, Master of the guild "Royal Jurai"
Gender
Male
Race
Dwarf (Humanoid)
Level
 ?? (Keeps leveling)
Character class
Hunter
Health
 ??
Occupation
Guild leader
Location
Unknown
Status
Alive
Relative(s)
Magnus Flamestone sr. (Father),

Hilde Flamestone-Stormpike (Mother).

Magnus Flamestone jr.(younger half-brother)
NPC Magni Bronzebeard page was used as a template for this page. Please don`t edit this page. If you want to see anything changes please contact me over my email.
Angus Flamestone is the leader of the guild "Royal Jurai" (The Royal Thunder tree)
Biography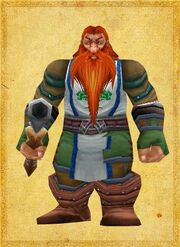 As a young lad Angus lost his father in one of the ever ongoing skirmishes against the Trolls that have a firm foothold in the Dwarven lands.
After he lost his father, Angus and his mother moved in with his late father's brother,...
After about a 100 years, his mother and uncle made things official and got married, and not long after that Angus got a baby brother, Magnus, named after Angus his dead father.
Like many other young Dwarfs Angus Flamestone started his training with fresh hope and good intentions.
But also just like many other young Dwarfs Angus got "stuck" in one of the local inns he encountered during his missions.
During his stay in the Stoutlager Inn located in Loch Modan, he met many different people from all races and classes,...
And he out drank just about all of them, no matter if they were Elves, Humans, Gnomes or even other Dwarfs.
This lasted for over a year until a young human Paladin walked into the Stoutlager Inn.
They got to talking,.. and drinking, and for the first time in ages Angus had to admit defeat in his favorite "sport".
To add insult to injury Angus found Marcus Still drinking the next day even thou he,.. a Dwarf,.. just woke up.
Angus walked up to Marcus, grabbed him by his collar and shouted: "Ye be sure, Ye not be a big Dwarf ?"
Marcus's responded by laughing and shouting to the inn-keeper: "Eey,.. a couple more beers over here...It`s time for round 2!!!"
The two have been great friends ever since.
Marcus even got Angus out of the inn and back to questing and training again.
After The Slump
After every couple or so completed missions, Angus and Marcus would spend a long night at the local inn where they "celebrated" there latest series of successful missions and quests.
It was during these celebrations that the illustrious duo came up with most of their (often insane) idea's.
Among these ale inspired thoughts, a often recurring idea was that of forming a guild.
While Marcus was on a special solo mission for the Chapel of light, he got captured by a group of undead who tortured and experimented upon him.
.
When Angus learned of this he teamed up with Armond LightHeart so they could track down these undead scum and free their mutual friend.
It wasn`t long after the daring rescue that Marcus started to feel the effect of the undead experimentations and ever more often wandered off alone in search of a cure against the growing darkness inside him.
During this time Angus met up with a Nightelf Druid called J'roin Moongazer.
Angus entrusted the Elf with stories about his adventures and several of the plans he made with Marcus during their "celebrations".
This Elf took an interest in the duo`s idea of a guild and helped work out the existing idea`s and added some of his own.
And so, after a couple of nights of brainstorming and drinking (The drinking mostly done by Angus) all the idea`s were worked out and the guild "Royal Jurai" was born.
Now this Jolly Dwarf finds himself as one of the leaders of quit a unique guild.
Tactics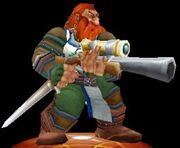 Angus often fights with the support of his wolf Cain or bear Bruiser, sending them out in front tying up the enemy while he shoots them down from a distance while giving his pets commands on who to attack next. This however doesn`t mean this Stout Dwarf doesn`t know how to do some intence damage himself. In close combat he simultaneously sports a sword and an axe to take care of any adversary who dares to come in arms reach.
Abilities
As a hunter with most training done in "Survival" and supported by some training in "Marksmanship", Angus favours doing long ranged atacks that either instanty take out a enemy or dazing them, giving him enough time to effectively command his pets and any of his guild members into an ideal position.
Quotes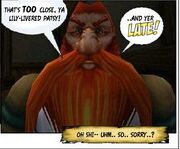 That`s too close ya lily-livered patsy,.. and yer late (A difficult journey - Page 2)
Action Figure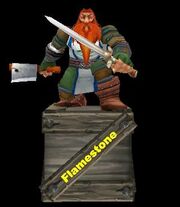 Angus Flamestone action figure as once ordered at www.figureprints.com
Trivia
As most must have figured out by now, Angus Flamestone is a player controled character in the game "World of Warcraft" where he functions as a guild leader on an eurepean server
Angus is also one of the main characters of a starting webcomic (see "Links")
Links
Internal links:

External links:
Webcomic & Guildpage [1]