Bigstackstwo/Grok'thar Gorefist
Talk

0
98,472pages on
this wiki
Grok'thar is former warrior of the Horde, now a bounty hunter, he has suffered many tragedies and regrets that follow him through his harsh days.
The Life of Grok'thar
When he was young, Grok'thar had grown up in Draenor (now known as Outland). He was born long before Thrall, and even before Grommash Hellscream. It is believed that he was born around the time, maybe even before Drek'Thar. Grok'thar had eventually grown up to follow Ner'zhul and the other Orcs in getting ready to kill the Draenei. Grok'thar is one of the more known orcs that had slaughtered women, children and the poor. They had struck fear within the Draenei. Grok'thar was also one of the orcs to slaughter the Draenei in Shattrath City.
These events leave guilt in Grok'thar's mind for the rest of his life. Grok'thar was one of the orcs that had eventually rallied with Thrall and Grom into Kalimdor. Still, burdened too much with guilt and seeing Rexxar being an adventurer type of orc-like being, Grok'thar had said his farewells and began his life as a bounty hunter. He had claimed the bounty of many foes in Kalimdor. However, not long before the Lich King challenged Orgrimmar and Stormwind, he had discovered Grok'thar in the Barrens. With a swift strike from behind, Grok'thar was dead.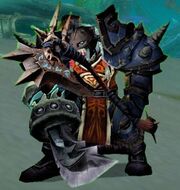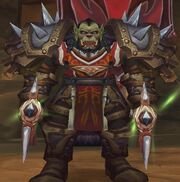 Eventually brought to Acherus, he was raised to be a Death Knight and had annihilated New Avalon with the rest of the Scourge, until the Battle for Light's Hope, where his mind was freed. Now, with even more regrets in his memories, Grok'thar seeks to redeem many of his actions by taking the fight to the Lich King, in his own way. Siding with the Horde, Grok'thar did what he could bring the fall of the Lich King. He has now returned to his mission of conquering the biggest game on the planet.
Cataclysm

This section concerns content exclusive to Cataclysm.
Many heroes are often called to challenge and defeat the evil hordes that come to try and tear Azeroth to its frame. Other heroes are forged by their own spirit in conquering their enemies. Some answer the call for other reasons, be it greed, vengeance, jealousy, or otherwise. Not Grok'thar. Grok'thar has returned to seek the biggest game on the planet. He has charged into Vashj'ir in hopes of capturing a Leviathan, dead or alive. After having little luck, this stolid Death Knight made his way into the ancient lands of Uldum, continuing the mission of Hemet Nesingwary. It is currently unknown if the game-conquering Hemet shall continue his quest further with Grok'thar.
Notes
Grok'thar had his right hand cut off in battle sometime during the sacking of Shattrath City. He had it tended to when the battle was finished and decided to place a blade upon the missing appendage, similar to Kargath Bladefist.