Fandyllic/part-bottom
Talk

0
101,312pages on
this wiki
Featured article
The Trade Princess Movement
is an entirely fan and player powered movement to create a
Female Trade Prince
for the
Bilgewater Cartel
, the playable faction of goblins added in the expansion
World of Warcraft: Cataclysm
. It started as a thread on the World of Warcraft: Cataclysm forum back in January 2010 by the player Sarpa and was originally inspired by the forum's MVP moderator
Frejya
. The movement grew in support from countless players, broke multiple post limits, had mountains of fan art and fiction created, and was one of longest-lived threads on the Cataclysm forum before they became read-only.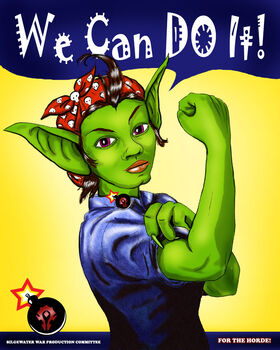 Possibly as a result, a simulacrum has been put into the game as
Boss Mida
, <Her Tallness>, and is located in the
Goblin Slums
of
Orgrimmar
. Her assistant nicknamed "Bowie", it seems, has been renamed
Kazit
. Three other goblins accompany Her Tallness in the slums; Kazit,
Bruiser Janx
, and
Engineer Niff
.