Kirkburn/FAupdate
Talk

0
102,364pages on
this wiki
Goblins are small, green (or yellow-green) creatures with pointy features and high intelligence (though often little common sense).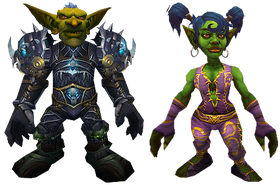 A number of trade princes rule over the various goblin holdings around the world. Though the trade princes all live in the goblin city of Undermine on the Isle of Kezan, they each control their own private armies and trade fleets. In turn, each controls rings of trade, mining, deforestation, slave rings, and poaching.
Reforging old pacts with their one-time allies, the goblins have been welcomed into the Horde with open arms.