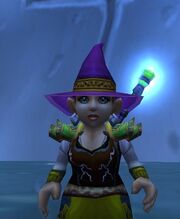 I was simply named after my cat. Perhaps a picture will be allowed of her, at a later date.
I play on the server Garona as Nodokarka, currently a 70 PoM/Pyro Mage... of Doom. This was actually my First 60, and continues to be my Main throught The Burning Crusade.
Notable Characters
Edit
I maintain consistent activity on Garona Alliance. My main is Nodokarka the Mage (of Doom), Nodo the Druid (also of Doom), Nodokark the Paladin (of High Mitigation) (and Doom), and Jettanos the Warrior (of Little Attention).
The Main, Nodokarka, is currently a Regular Raid Rotation Mage for Aequalis Dementia, a Casual Raiding Guild. She is currently boasting Notable Numbers for her Guild in the Damage Charts and enjoys watching Bosses fall over, making aching noises as they plummet face first to the ground.
My Articles
Edit
My only article got deleted... for good reason though :)