Warlock sets
Talk

0
102,266pages on
this wiki
Classes

e

Class races
Dk
Dr
Hu
Ma
Mo
Pa
Pr
Ro
Sh
Wl
Wr
Quests
Dk
Dr
Hu
Ma
Mo
Pa
Pr
Ro
Sh
Wl
Wr
Abilities
Dk
Dr
Hu
Ma
Mo
Pa
Pr
Ro
Sh
Wl
Wr
Spec
Dk
Dr
Hu
Ma
Mo
Pa
Pr
Ro
Sh
Wl
Wr
Talents
Dk
Dr
Hu
Ma
Mo
Pa
Pr
Ro
Sh
Wl
Wr
Trainers
Dk
Dr
Hu
Ma
Mo
Pa
Pr
Ro
Sh
Wl
Wr
Glyphs
Dk
Dr
Hu
Ma
Mo
Pa
Pr
Ro
Sh
Wl
Wr
Builds
Dk
Dr
Hu
Ma
Mo
Pa
Pr
Ro
Sh
Wl
Wr
Tactics
Dk
Dr
Hu
Ma
Mo
Pa
Pr
Ro
Sh
Wl
Wr
Armor sets
Dk
Dr
Hu
Ma
Mo
Pa
Pr
Ro
Sh
Wl
Wr
Starting a
Dk
Dr
Hu
Ma
Mo
Pa
Pr
Ro
Sh
Wl
Wr
PvE
Dk
Dr
Hu
Ma
Mo
Pa
Pr
Ro
Sh
Wl
Wr
PvP
Dk
Dr
Hu
Ma
Mo
Pa
Pr
Ro
Sh
Wl
Wr
Macros
Dk
Dr
Hu
Ma
Mo
Pa
Pr
Ro
Sh
Wl
Wr
A warlock set refers to a collection of equipment with a warlock class restriction that usually provides an additional bonus when worn together.
Dungeon sets
Edit

Tier sets
Edit

Faction sets
Edit


Alliance
Horde
Alliance and
Horde Arena Reward
Crafted PvP gear
Warlock set lookalikes
Edit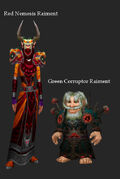 These 'sets' do not have a proper name and offer no set bonuses. They do however present a unified look and carry warlock -friendly stats.
Cloth armor sets
Edit
Armor sets
 

Level 60
Dungeon
Faction
Raid
PvP
Non-class
Crafting
 

Level 70
Dungeon
Raid
PvP
Arena
Crafting
 

Level 80
Raid
Arena
Crafting
 

Level 85
Raid
Arena
 

Level 90
Raid
Arena
Challenge Mode